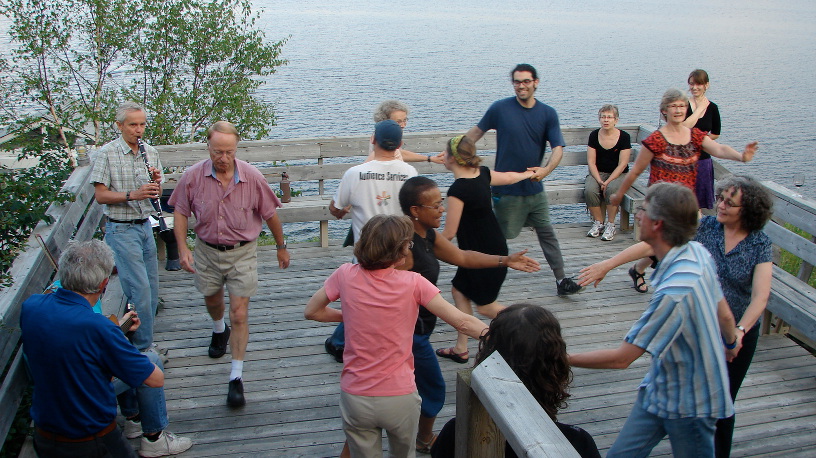 The Manitoba International Folk Dance Association is a recreational dance club, open to everyone who shares our enthusiasm for folk dancing. For over 35 years our non-profit organization has promoted the folk dances and music of countries and ethnic regions from around the world, building a repertoire of hundreds of dances from all over Europe and around the globe. We feature a wide variety of dance styles - from circle dances to set and couple dances, from line dances to mixers. More...
Join Us!
Churchill Park United Church
525 Beresford Avenue, Winnipeg, MB
Fridays 8:15 - 11:00 p.m.
From mid-September through mid-June
Want to stay in touch?
Join our mailing list
.

Coming Events:
Augustine Community Fundraiser Dance Feb 11
Augustine United Church has announced their first-time-ever FUNdraiser, a FOLK DANCE evening featuring live music! Greg Allan is volunteering his time to call a variety of easier circle, line, and square dances. This is an open community event. The event is designed to appeal as much to the faint-of-heart as to those who are more exuberant. The dances taught will be inclusive and Greg will call the dances using gender-neutral terminology. Everyone is encouraged to wear colourful attire, whatever you find comfortable for exercise.
Date: Saturday, February 11
Time: 7:00 p.m.
Price: $20.00 per person (free for children)
Location: Augustine United Church on River near Osborne
---
Valentines Party Feb 17
We will have our annual Valentines Day Party on Feb 17. No formal dance instruction but request dancing for everyone. Members are invited to bring snacks or desserts to share.
---
Bulgarian Dance Weekend March 17-19
The workshop committee is planning a Bulgarian dance workshop with Nina Kavardjikova on the weekend of March 17-19. There will be workshops on Friday evening, Saturday morning and afternoon, and Sunday afternoon, plus a Culture Corner and dance parties Friday and Saturday nights. Workshop details are being worked out and will be provided soon.
Nina Kavardjikova is a Bulgarian folklore and traditional dance instructor, choreographer, and researcher. She was born in northern Bulgaria and toured the world as a principal dancer with the Bulgarian Trakia State Folk Ensemble. She is particularly interested in Bulgarian village dancing and music. Nina is a patient teacher with an excellent command of English.