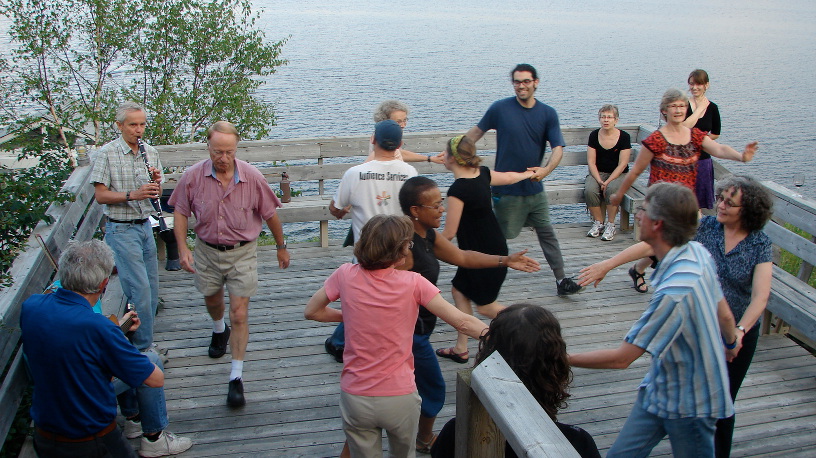 The Manitoba International Folk Dance Association is a recreational dance club, open to everyone who shares our enthusiasm for folk dancing. For over 35 years our non-profit organization has promoted the folk dances and music of countries and ethnic regions from around the world, building a repertoire of hundreds of dances from all over Europe and around the globe. We feature a wide variety of dance styles - from circle dances to set and couple dances, from line dances to mixers. More...
Join Us!
Churchill Park United Church
525 Beresford Avenue, Winnipeg, MB
Fridays 8:15 - 11:00 p.m.
From mid-September through mid-June
Want to stay in touch?
Join our mailing list
.

Coming Events:
Bulgarian Dance Weekend March 17-19
The workshop committee is planning a Bulgarian dance workshop with Nina Kavardjikova on the weekend of March 17-19. There will be workshops on Friday evening, Saturday morning and afternoon, and Sunday afternoon, plus a Culture Corner and dance parties Friday and Saturday nights. Workshop details are being worked out and will be provided soon. Click
here
for a brochure and registration information.
Nina Kavardjikova is a Bulgarian folklore and traditional dance instructor, choreographer, and researcher. She was born in northern Bulgaria and toured the world as a principal dancer with the Bulgarian Trakia State Folk Ensemble. She is particularly interested in Bulgarian village dancing and music. Nina is a patient teacher with an excellent command of English.