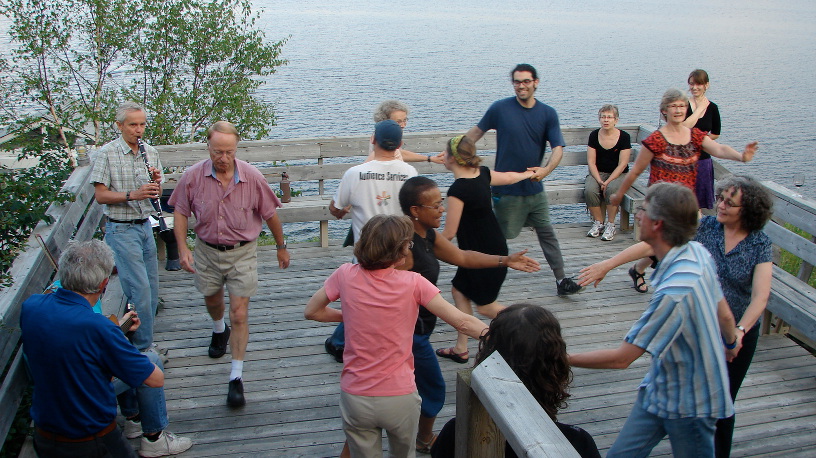 The Manitoba International Folk Dance Association is a recreational dance group, open to everyone who shares our enthusiasm for folk dancing. Since the 1970's our non-profit organization has promoted the folk dances and music of countries and ethnic regions from around the world, building a repertoire of hundreds of dances from all over Europe and around the globe. We feature a wide variety of dance styles - from circle dances to set and couple dances, from line dances to mixers. More...
Join Us!
Churchill Park United Church
525 Beresford Avenue, Winnipeg, MB
Fridays 8:15 - 11:00 p.m.
From mid-September through mid-June
Want to stay in touch? Join our mailing list.



Coming Events:
MIFDA Christmas party - Dec. 13
All request dance night with refreshments and a special performance from the MIFDA band. The MIFDA Band will play a short set including Nabrala; Erev Ba; Gae Gordons; Syrtos Kitrinou; Karamfil; and Bavno Oro.
Members are invited to bring snacks or desserts to share.
---
Request night - Dec. 20
Instead of teaching new dances, this will be an "all request" night - the program will be based on the requests of those attending, while including dances that everyone can participate in.
---
No Dancing Dec 27
Next dance night is Jan 3.
---
Contra Dance Dec 28
Save the date: Greg Allan is organizing a contra dance to take place on Dec. 28 - details to follow.
---
Jan. 3 - Dances Taught This Year
Dance (without a review) all the dances taught from Sept to Dec 2019; Plus request dancing.
---
Baroque Dance Workshop - Feb. 15, 2020
The Winnipeg Early Music Society is hosting a Baroque Dance Workshop on Feb. 15, 2020 featuring Jocelyne Lépine. For more information, check out the
event poster,
or email
wpgearlymusic@gmail.com
.