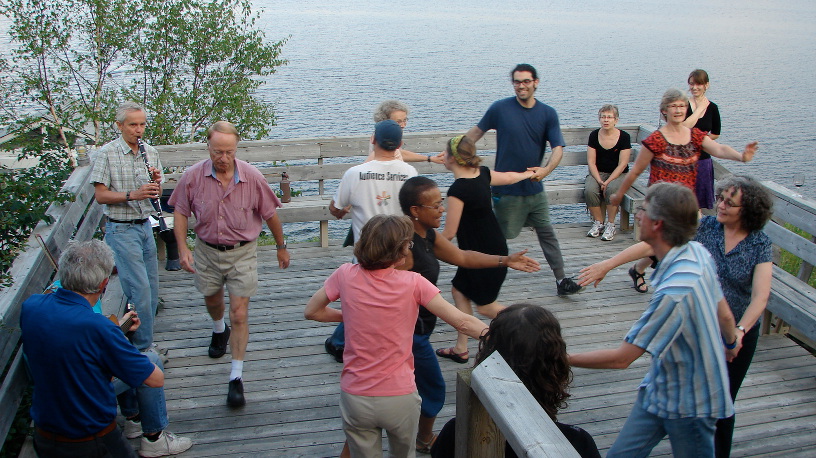 The Manitoba International Folk Dance Association is a recreational dance group, open to everyone who shares our enthusiasm for folk dancing. Since the 1970's our non-profit organization has promoted the folk dances and music of countries and ethnic regions from around the world, building a repertoire of hundreds of dances from all over Europe and around the globe. We feature a wide variety of dance styles - from circle dances to set and couple dances, from line dances to mixers. More...
Join Us!
Churchill Park United Church
525 Beresford Avenue, Winnipeg, MB
Fridays 8:15 - 11:00 p.m.
From mid-September through mid-June
Want to stay in touch? Join our mailing list.



Coming Events:
Teaching Schedule
Oct 4, 11, 18:
Yar ko parag (Armenia) - Moira
C'est une jeune mariee (Quebec) - Moira
Kojcovata (Bulgaria) - Jeremy
---
Halloween Party
Oct. 25 will be our annual Halloween party. There won't be a formal teaching program and the program will be mostly based on your requests, but we will include dances that everyone can participate in with a little quick talk-through if needed. Please come in a danceable costume and bring some food to share if convenient.
---
Contra Dance - Nov 30
Join us for an evening of dancing, live music, food and socializing with friends new and old. Bring a partner or come by yourself. No experience needed.
Music by
Rachel Aucoin and Sabin Jaques
. Hosted by Bruce Marshall. Dances called by Bruce Marshall, Susan Moore, Susan Stanton and Gisèle Himbeault.
LOCATION: Churchill United Church, 525 Beresford Ave, 2nd floor.
TIME: Doors open at 7:00, concert from 7:30-8:15, dancing from 8:30-11:00.
TICKETS: $20 at the door.
Event Poster