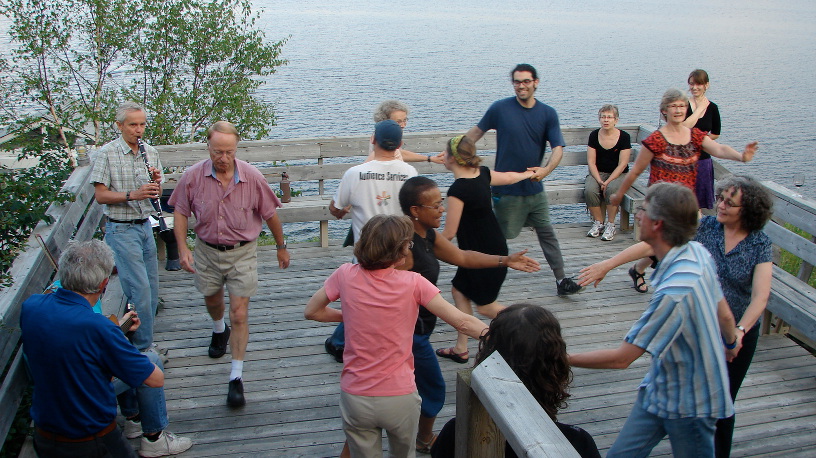 The Manitoba International Folk Dance Association is a recreational dance club, open to everyone who shares our enthusiasm for folk dancing. For over 35 years our non-profit organization has promoted the folk dances and music of countries and ethnic regions from around the world, building a repertoire of hundreds of dances from all over Europe and around the globe. We feature a wide variety of dance styles - from circle dances to set and couple dances, from line dances to mixers. More...
Join Us!
Churchill Park United Church
525 Beresford Avenue, Winnipeg, MB
Fridays 8:15 - 11:00 p.m.
From mid-September through mid-June
Want to stay in touch?
Join our mailing list
.

Coming Events:
Weekly Dancing Resumes
September 16, 2016
Our new season of Friday evening dancing begins. As usual, we'll start with warm up dances at 8:15, teaching from 8:30 to 9:30, followed by requests until 11:00.
---
Culture Days / Open House - Sept 30
Our annual open house will be held on September 30 in conjunction with
Culture Days
, from 8:15 to 11:00. Everyone is welcome to drop in or stay for the evening. Beginner level dances will be taught and other dances will be demonstrated to live and recorded music. Refreshments will be provided. This a free event.
---
Contra Dance Evening - Oct 1
The first contra dance in the
Peg City Contras
series on Saturday, October 1 at Harrow United Church 955 Mulvey Ave. Admission is $13.00. Event being put on by Village Green English Country Dancers. Live Music provided by Live music by Alex Lamoureux and Jeremy Rusu. Calling by Greg Allan.
Two more contras are scheduled for the fall: a
Costume Caper Contra Dance
on October 29th, and a dance on Nov. 26th, presenting Winnipeg's own Champion fiddler
Patti Kusturok
. Details forthcoming. For information contact
Greg Allan
.