"Breaking Up Christmas" Dance Was a Crowd Pleaser!
Posted by Jeremy Hull on 01/25/2014.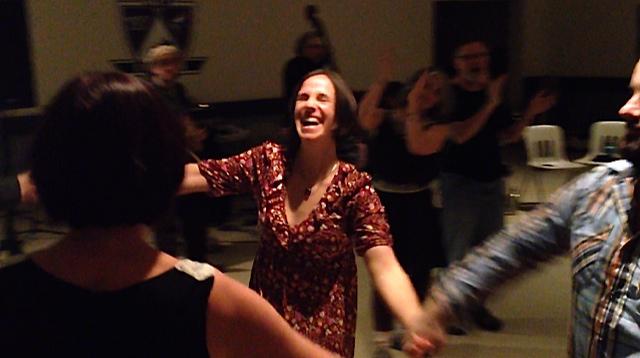 In 2011 between Christmas and New Years there was a square dance at Pop Soda's in Winnipeg featuring Jacynthe Guimond, a caller from Montreal and an old time band "Red Rudolph and the Roof Wreckers." It was well attended by people of all ages and dance backgrounds, from experienced to new dancers, and was a great success in terms of attendance and good spirits. I asked Jacynthe to keep in touch in case she would be coming again to Winnipeg, along with her banjo-playing partner Tyler Rudolph who headed up the band. So this fall when she got in touch it was a great opportunity to put on a similar event, dubbed "Breaking Up Christmas" after an old Appalachian tradition of celebrating Christmas with two weeks of house parties filled with music and dance. (For more on this click here.)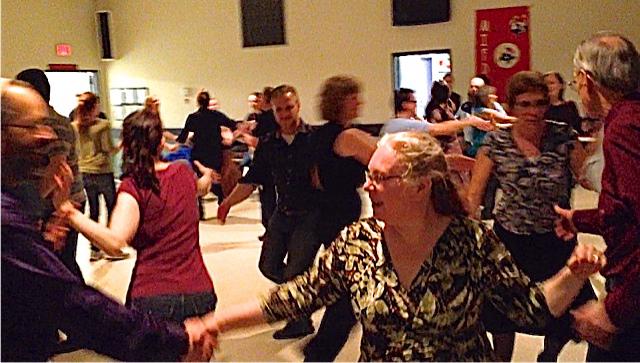 Following some discussions with several other dance groups we at the Manitoba International Folk Dance Association (MIFDA) decided to organize and sponsor the event. As was done in 2011 we offered to provide any profits from the event to CPAWS (Canadian Parks and Wilderness Committee). We picked Dec 27 for the dance, booked a hall, developed a budget, and with the help of our friends and networks we got the word out. Volunteers helped with promotion, food preparation and serving, and taking care of the registration table. In the end we had attendance of more than 100, filling the Norberry Community Centre to capacity. About $200 was raised in support of CPAWS.
Talk about having a good time! The dance was fun for everyone. Jacynthe is a dynamic and enthusiastic caller and her program of French-Canadian square dances worked well with the crowd which again included people of all ages and dance backgrounds. The band, featuring Kori Myanishi on fiddle, Tyler Rudolph on banjo, Robert Allan Wrigley on guitar and Tim Longbottom on upright bass, played brilliantly and tirelessly, giving us music that kept us moving and smiling all night. During a break in the dancing Robert's twin 11 year-old fiddling sons played an energetic set of tunes that had people up and jigging. During and after the concert there were lots of positive comments with folks asking when the next dance would be. One attendee was even inspired to organize her own "hoedown" birthday party a few weeks later.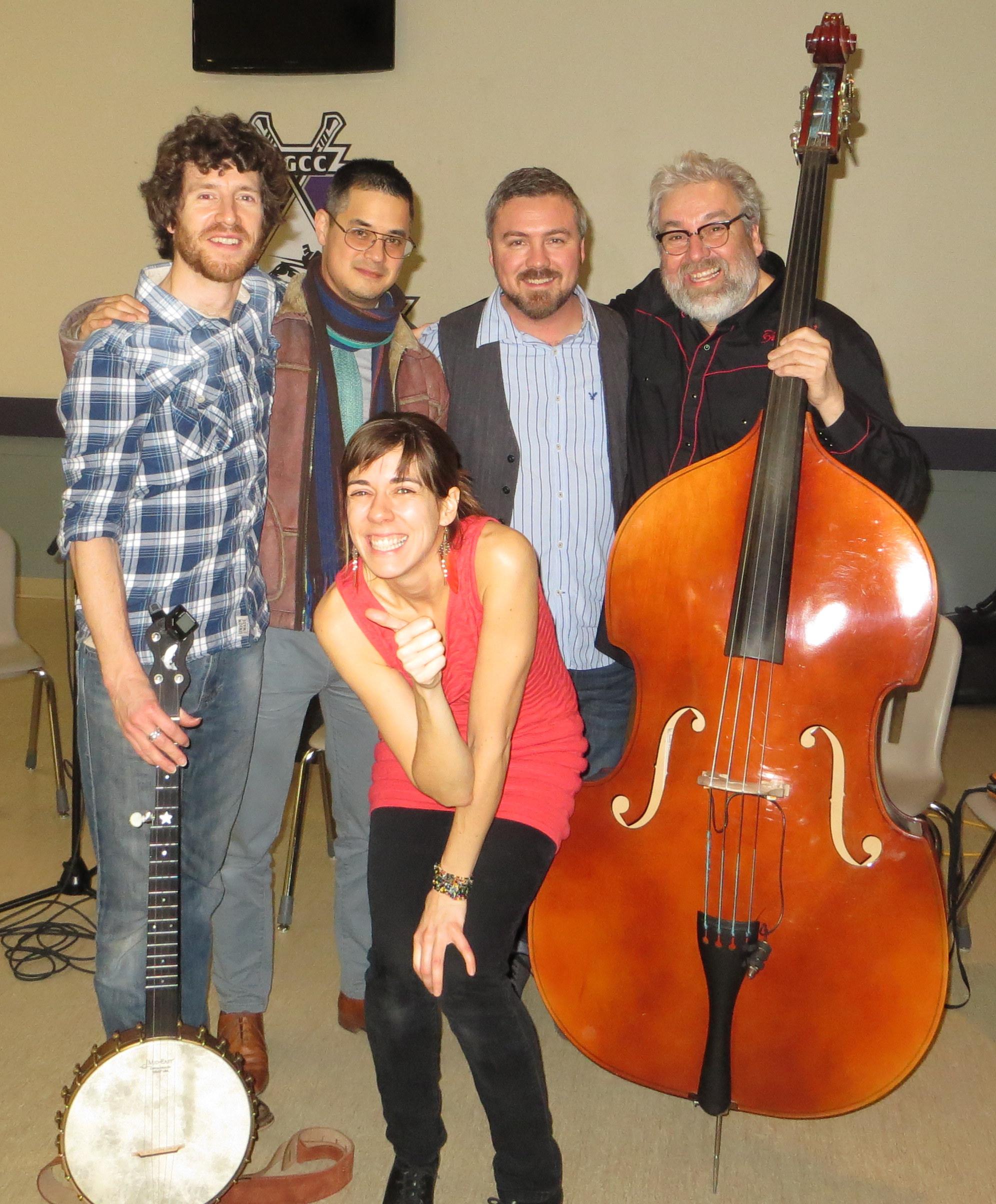 Tyler, Kori, Robert, Tim with Jacynthe
There could be another similar square dance at some point in the future, although nothing definite is planned so far. Our volunteers were excellent and in the spirit of the event many others pitched in as well. Thanks to everyone, especially the dancers!
- Jeremy Hull (event organizer)